Our Office
Our present office was established in 2007. There are five treatment rooms (one of them for surgery), one sterilization room, one X-ray room, one lab room, two storage rooms,two bathrooms, reception area and waiting room. Each treatment room and reception are equipped with computer(s), which are internally networking. This allows dental personnel to get easy access to your info for diagnosis and treatment.
The lower left photo shows our typical treatment room, spacious and neat. In the middle of this photo is a dental chair. To its right and over the counter is a 19-inch monitor. Sometimes the doctor discusses your case over the monitor by showing your X-ray, photos, et al. We take intraoral X-ray in the treatment room. Digital X-ray shows up almost instantaneously. Furthermore we can cut down radiation to large proportion as compared to tradtional X-ray¡£
We strictly follow up infection control rules. Most of items used for your treatment are disposable, such as needle and anesthetic. For other items, we wash thoroughly and autoclave. We prepare each room every day as if our loved one is coming for treatment.
Lower right is our sterilization room. The uniquely designed cabinetry facilitates sterilization process and storage of a variety of dental items.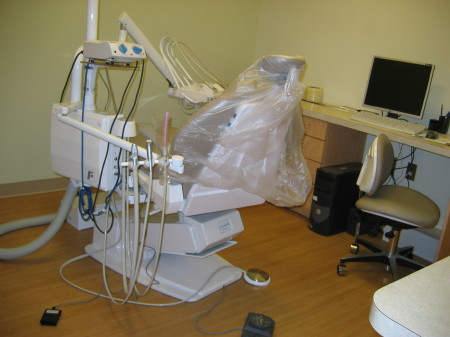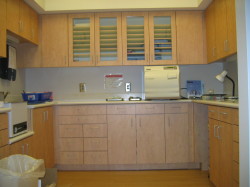 As mentioned above, intraoral X-ray can be taken within each treatment room. For a bigger X-ray, we have to take you to a X-ray room as shown left below. The white upright machine is called panoramic. The X-ray device turns around your head and snaps shot all of your teeth in one film. This machine is also digitalized. The picture shows up momentarily in the monitor. We put on a heavy lead apron before taking X-ray for your protection. For kids, we reduce exposure time.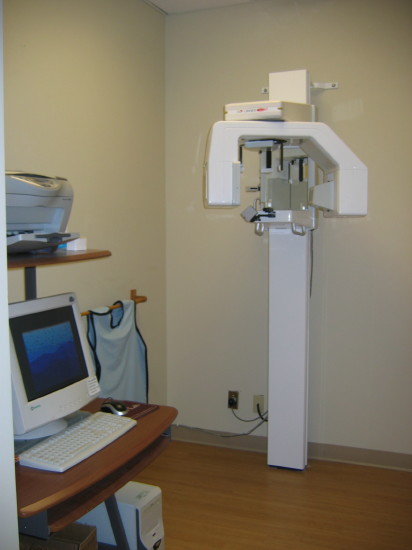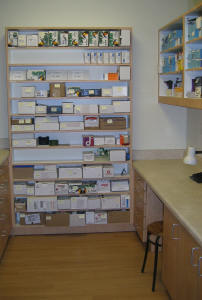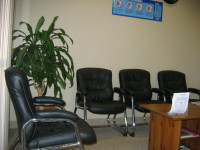 Upper middle is our laboratory. We store your models here. The doctor enjoys most working in this tiny quiet room while everybody else leaves the office. He can perform the best surgery on models before working on you.
Upper right is our waiting room. We hope that you find it home. We are sure that something good will happen if both of us work hard together. Let us know if you just want to take a look at our office.770-814-2212.
The most precious thing in our office is our staff members. Lirong (lower left)answers your phone, check your insurance and receive you when you arrive. Ana (lower right) is our chairside assistant. She graduated from dental assistant program, Everest Institute, Norcross, GA. She aslo speaks Spanish. Anyway, we try hard to help you. Thank you so much.